Learning Fun with Felt!
Keeping Kids creative Event!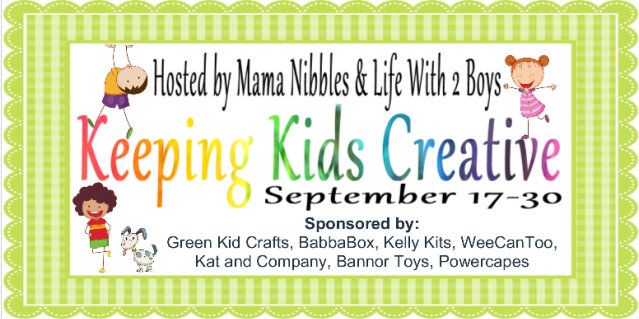 The last week of September has been Nationally designated as "Keep Kids Creative Week". While this week is often celebrated in schools with many fun activities to help stimulate kid's creativeness, parents can also take advantage of this week to do some really fun things at home. Many parents struggle with finding time to fit creativity in but there are lots of products out there to help us with getting those creative juices flowing.
Mama-Nibbles
and
Life With Two Boys
created this event to help you find some fun products to keep your family creative not only during "Keep Kids Creative Week" but any time of the year!
Keeping Kids Creative begins on September 17th at 12:01am EST and ends on September 30th at 11:59pm EST. Along with the awesome prizes that each of the participating blogs are offering we also have 3 Grand Prizes thanks to our sponsors
BabbaCo
,
Green Kid Crafts
,
Kelly Kits
,
PowerCapes
,
Bannor Toys
,
We Can Too
, and
Kat and Company
.
Enter to win the Grand Prizes here!
Here at the Simply Me Blog you can win 2 Learning with Fun felt boards!
Learning Fun with Felt sets provide a hands-on educational learning experience. The felt boards help to promote expression, exploration and creativity through play. These felt play board sets inspire a child's imagination to learn and to play at the same time!
I love how amazing these boards look! The cut out dinosaurs and sea animals had my kids amazed and playing for hours! They help with hand eye coordination,
imaginative play, great for traveling, and I also loved being able to do story telling with my kids! I thought it was so cute when Quinn would pretend to be a dinosaur.
The pieces were easy to clean too!
My kids like setting up the boards and putting them up against the toy box and telling a story.
I'm not sure if you can see in this photo, but I couldn't help posting it :) Quinn seems to think that octopus's belong in volcanoes!! No matter how many times my oldest son tells him the octopus does not go there every time Quinn plays with this set it is one of the first thins he does!
I love these Felt boards! They entertain my kids for hours and I love the fact they are learning and being creative, but also they are having fun doing it! I think the boards can be enjoy by kids of all ages.
They offer so many different kinds of boards so there is something for everyone :)
Want to learn more check out their website link below:
Website
facebook
Twitter
Here at the Simply Me blog you can win 2 boards of you own :)! Must be 18+ to win and live in the continental USA.
a Rafflecopter giveaway
Disclaimer: I received this product for the purpose of review. I was not paid in anyway to write this review all opinions are my own!
Check out the other giveaways going on in this event!
Disclaimer: Please note that the Keeping Kids Creative hosts and participating bloggers are not responsible for sponsors that do not fulfill their prize. We have represented each sponsor with the expectation that they will fulfill their prize in a timely manner. While we are not responsible, we will make every effort to assist the winner in obtaining their prize.